Description
AMERICA-MEXICO: UNITED IN FRIENDSHIP!
PROUDLY DISPLAY YOUR MEXICAN/AMERICAN HERITAGE!
AMERICAN & MEXICAN FLAG PATCHES
~~ EMBROIDEREDIRON-ON/SEW-ON PATCHES (3 1/2 x 2 1/4″) ~~
[Quickly shipped from within the USA]
~~~~~~~~~~~~~~~~~~~~~~~~~~~~~~~~~~~~~~~
In these challenging political times, show that indeed America and Mexico are United in Friendship by wearing or gifting a set of American Flag/Mexican Flag Embroidered Patches!
~~~~~~~~~~~~~~~~~~~~~~~~~~~~~~~~~~~~~~~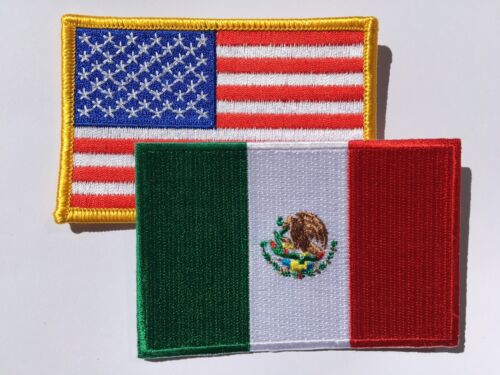 Special Offer: BUY 5 or More Sets of AMERICAN-MEXICAN FLAG PATCHES
…. AND GET ONE ADDITIONAL SET OF PATCHES FREE!
Proudly show your love of AMERICA and MEXICO by displaying BOTH the American Flag and Mexican National Flag patches on your shirts, vests, jackets, sweatshirts, hats, backpacks,bags, and much more.
PRODUCT DESCRIPTION
Durable, High-Quality Detailed/Dense Embroidered Patch – Dimensions 3 ½ x 2 ¼"

Made to last!

100% digitally embroidered for the precision needed to display fine detail

High-Quality heat-sealed backing for ironing onto a variety of clothing items and fabrics

Can be easily sewn onto items as well

Can be used to decorate photo albums and scrapbooks too!
~ ~ ~ Application Instructions WillProvided with Each Purchase – NO Worries! ~ ~ ~
Take advantage of our LOW PRICES and purchase your high-quality American Flag/Mexican Flag Patch today!
>>> Remember! Buy 5 or More Sets of Patches … Get One Additional Set Free! <<<
——————————————————————————————————————-
Thank you for checking out this offer. Now … the rest is up to YOU!

Payment
We accept payment by PayPal

Immediate payment is required

Shipping Information:

All orders are shipped within 1-2 business days following receipt of payment, Mon-Friday.

Free Shipping on all orders!

NO international shipping.

Return Policy:

We offer a 14-day 100% Money Back Guarantee

Buyer pays the return shipping costs

Feedback:

We strive to achieve your total satisfaction with your purchase, and hope that you will be able to give us a 5-star rating for our service. When you receive your ordered item, please take a moment to leave us a positive feedback rating. We will leave a positive rating for YOU shortly after receipt of your order and payment. However, if there is something that you are not satisfied with regarding your order, please send us a message via eBay Messenger before you leave feedback so we have the opportunity to address your issue and achieve your complete satisfaction.

WE APPRECIATE YOUR BUSINESS!
Marketing-Guy
An eBay Seller since 1999